Name: Ernest Engman (AKA SGT Rock)
Age: 35
Gender: Male
Height: 5' 8"
Weight: 155 pounds
Email address: sgtrock@hikinghq.net
City and State: Fort Polk, Louisiana
Date: 24 April 2002
Backpacking Background: I've been backpacking and hiking as long as I can remember. My first overnight backpacking trip was in the late 70's on the Appalachian Trail. Places I've hiked: 350 miles of the Appalachian Trail - sections in Georgia, North Carolina, Virginia, and West Virginia. Bankhead Forest, Alabama. Sipsey Forest, Alabama. Pinhoti Trail, Alabama. Mammoth Cave National Park, Kentucky. Desert of New Mexico and Texas north of El Paso. Kistatchie National Forest, Louisiana. Slick Rock/Joyce Kilmer Forest, North Carolina. Cradle of forestry in America, North Carolina. Standing Indian Trails, North Carolina. Many more. My current gear selection is in the lightweight realm with a summer base weight between 10-11 pounds and a winter base of 13.75 pounds.
Similar products used: Go-Lite pack, homemade mesh rucksack, Lowe Alpine internal frame pack, Peak1 internal frame pack, and Lodestone internal frame packs.
Location: Tests were conducted in the Kistatchie National Forest and in the Ozark Mountains on the Eagle Rock Loop.
Description of location:
Kistatchie - west central Louisiana 90 meters above sea level in pine forests with some hardwoods mostly level and easy trails.
Ozark mountains - southwest Arkansas with mountains that achieve 1500' gains and losses and has numerous river crossings. Vegetation includes a mix of hard wood and pines with a good deal of underbrush and briars.
---
Weight (manufacturer): 16-28oz depending on options
Weight (tested): 28.0 oz
Capacity: Adjusts from 2500 to 6500 cubic inches (41 to 106.5 liters)
Frame type: none
Price: $125 (varies according to options)
URL: www.moonbowgear.com
E-mail: info@moonbowgear.com - preferred method of contact.
Phone: 1 (800) Moonbow (1 (800) 666-6269) - LEAVE A MESSAGE!
Most weight carried: 50 lbs
This review is also on my site Hiking HQ.
---
In April 2002 I started looking at buying a new backpack. I had come to the conclusion that I would probably not get my pack weight below 20 pounds and the mesh backpack was not very comfortable when carrying over 25 pounds for long periods. Which is what I would most likely carry on hikes. The prime candidate was the Mountainsmith Ghost, which only weighs about 38 ounces and has a capacity of 3100 C.I. My main problems with getting the Ghost were the $200 price tag and the 3100 C.I. capacity which I would have trouble living with. Although I have been very successful at dropping pack weight, for some reason my bulk is still in the 4500 C. I. range.
Then one day I got an e-mail from Rosaleen about letting Jonathan McCue of Moonbowgear use my rock/stake bag idea, and also about this cool pack that he had called a Gearskin that she intended to hook into a Hennessy Hammock. I immediately jumped to the site and was quite impressed by the pack design, as well as many other lightweight tents, tarps, bags, sacks, etc. The funny part is I almost never got the message because of an e-mail error. Fortunately Rosaleen decided to send it again or I would never have found this pack.
So I approached Jonathan McCue about getting one of his packs as a test model, which he very graciously agreed to, and even made sure I got the custom options I wanted instead of just sending me an old model sitting around the place. Talk about your service!
Later I did an owners review as part of a Backpack Gear Test official test. Note however this was not a review as an official tester but rather a review as an owner.
---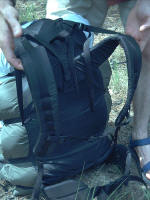 What makes the Gearskin different is that it really isn't a pack in the traditional sense. It is a piece of cloth about 13" wide and 57.5" long forming a containment system. At the top/bottom ends are two quick release buckles and on each side are another four quick release buckles. Attached to the "back" is a very well designed load carrying system with a haul loop, tapering padded shoulder straps with an adjustable position sternum strap, load lifting straps, and a 5 1/2" wide padded hip belt. I would venture to say the actual strap system is just as well built as that of any high end internal frame backpack you can find. But there aren't any stays or frame. I found that it didn't need any.
The material of the one I tested was black "pack cloth" which I suspected was Cordura nylon but turns out is a tough nylon, but not actually Cordura. I chose the pack cloth instead of sil-nylon because I was worried about the durability of the sil-nylon version. I trust myself to take care of a sil-nylon backpack while trail hiking, but sometimes I will go cross country in rugged terrain and will also occasionally use my gear at work (the Army), so I decided to get a pack cloth version for abrasion resistance. The only added option I asked for and got, was a mesh pocket on the back for packing my wet tarp and water bottle in. After using the pack, I found that the pocket might not have been necessary because I could have hung the tarp on the pack by stuffing it under a couple of straps, and strapping the water bottle in with one of the side straps like a water bottle holster.
Weights listed on the Moonbow site are "about a pound" but mine was 28.0 ounces, I suspect the 16 ounce version would be for a sil-nylon model without additional pockets. To answer that, Jonathan McCue said this:
"It really depends on the materials used, the size of the harness and any extra pockets. The weight I give of about a lb. is a sil/nylon version with a less generous sized harness that works for me just fine. However I'm not a very big guy and some folks like a larger harness for comfort because they are carrying more weight."
Another point that should be mentioned in this section is that every one of these "packs" is custom made. They build the Gearskin to fit your body, which for a skinny guy like me is a bonus. Many times I try a pack, I'll tighten the hip belt is all the way and I still don't have a good fit around my waist. When you receive a Gearskin, it will only need minimal adjusting to the different straps to fit it perfectly to your body. And think - $125 for a custom pack - you can't beat that! But, since it is custom made, you need to allow a few weeks for them to get it made and shipped after you order it, don't expect it the same week.
I also asked Jonathan McCue about warrantees, and this is what he said:
"As far as returns we haven't had to deal with that till now. We want people to know that if they are not happy with the Gearskin they can send it back, no problem, if it is in good condition they can send it back to us and we will give them their money back. We will also guarantee our quality and workmanship.
In some cases we may be able to offer a loaner, rental or demo for people to use. We have an instructional video that people can get for $10.00 that we will refund if they buy a Gearskin.
People need to realize also that this is custom made gear and that they have to be aware that it will take our resources to restock and should not take lightly the decision for them to have us make a custom piece. So for now we will give a 100% satisfaction guarantee or their money back. In the future if this gets out of hand for some reason (not that I think it will) we may have to work it a little different. The bottom line is we are willing to go the extra to make the customer happy."
---
To pack the Gearskin, think of it as a taco with compression straps. Instead of stuffing your sleeping bag and rolling up your pad, just fold up your gear inside your bivy, tent, ground cloth, or whatever shelter you carry. Then fold the shelter with the gear inside it down to the size of the sleeping pad. You can even put your clothing and food bags inside, or lay them on top of your shelter after you fold it up. Then center that bundle on top of the gear skin and fold it over like a taco shell. Clip the top and side clips loosely and compress them until the bundle is all tight. With your pad, and all that other gear under tension, the entire bag acts like a single piece of gear - no stay or frame needed. If you have a few odds and ends like rain gear, fleece, hat, etc. just stuff it in between the shelter and the Gearskin for quick and easy access.
After packing the Gearskin a couple of times, I can see the benefit of having the pack and shelter permanently or semi-permanently attached like the Powerpack system incorporates. If your thinking of getting a Gearskin, look into a Powerpack system first.
Packing with the Hennessy Hammock
In initial tests I used the Hennessy Hammock as a part of the pack, but when I started using the Snakeskins, I had to change my pack slightly. Here is my method:
| | | |
| --- | --- | --- |
| | | |
| 1. Lay the Gearskin out flat, suspension straps down on the ground. | 2. Center the sleeping pad top to bottom, side to side on the Gearskin. | 3. Put the food bag at the very center of the sleeping pad so that it will be on the very bottom of the pack. I used a sil-nylon sack for this. |
| | | |
| 4. Put the clothing bag and sleeping bag stuff sacks inside a trash compactor bag to serve as a pack liner. | 5. These go on the "back" of the pack directly above the food bag. Both of these bags are sil-nylon. | 6. Buckle the top two buckles, then the side buckles. Tighten the sides, but not too tight. |
| | | |
| 7. Stuff rain gear between the pad and the Gearskin "back". The back is the part that goes against the wearer's back and has the suspension straps. | 8. Slip the windscreen between the "front" of the Gearskin and the sleeping pad. I also slipped my pack cover in the "front" too. | 9. I place the hydration system at the top part of the "front" where the hose can be run out the top. Note I'm not using the hose, but the spout is able to poke out. |
| 10. In the top, I stuffed a sil-nylon sack with stuff like water purifier, toilet paper, first aid kit, etc. I also put my Hennessy Hammock stored in the Snakeskin and balled up. | 11. Strap a water bottle to the side using a compression strap and also a wet tarp to the outside using the same straps if needed. | 12. After all this, tighten all the compression straps. |
It may seem very complicated, but it isn't. With the heaviest Item (the food bag) at your waist and strapped directly there, the rest of the pack feels like a pillow on your back. Since I no longer use my shelter as a part of the "pack", the pad and the Gearskin are the only truly exposed part of the load which makes it very durable - important if you fear for your sil-nylon tent's safety. You may also note that everything is triple protected from rain - a sil nylon bag, inside a trash compactor bag, with a sil-nylon pack cover. This isn't specific to the Gearskin for me, I'm just paranoid about getting my gear wet.
Slack Pack
This is a special section I added after making the original review. A reader asked how to pack if you just want to carry a water bladder, some food, and maybe a rain jacket. It is an important question since there wouldn't be enough stuff to make the Gearskin compress on the gear, thus holding it in. Important if you may want to leave your camp up and make a side trip for a nice site, a re-supply, or whatever.
The solution is very simple. When the volume of gear is so low, simply cross the side straps to their opposites across the "front" of the pack. With such a small load you could walk almost forever without fatigue and without worry of anything falling out the sides.
| | | |
| --- | --- | --- |
| 1. Slack packing. All I need is a rain jacket, some food, water, Polar Pure, and a pack cover. | 2. Crisscross the buckles across the back and put your stuff in. Tighten down the straps. | 3. Now you have a small daypack for base camping, a re-supply trip, or whatever. |
---
I decided to test the pack under a variety of load plans and conditions. My intent was to determine just how much weight could be carry comfortably in this pack without needing a frame or stays. Under small loads (20 pounds or less) the general consensus is that just about any frameless pack can be comfortable, but I wanted to know what the benefits of the compression and suspension system would truly be. For reference I chose the same eight mile route as a standard distance/trail condition. The course is fairly level compared to most place you will likely hike, but for Louisiana it has some good hills and draws to cross.
30 Pound Test
In my initial tests, I used my Hennessy Hammock with the pad inside as the base, folding the hammock flat over the pad, then on top of that I put my clothing, sleeping bag, and food in separate sil-nylon bags. I folded the hammock and pad over the bags and buckled the sucker up, then tightened down the straps. Next, I stuffed my rain gear in from the top for easy access and put my tarp, water bottle and lemonade bowl/cup in the mesh pocket so I can access all that on the trail. It all fit in fine and the 27.75 or so pounds rode very well on my back. I found that keeping my food bag and water bladder at the bottom close to my hips was the best way to load it.
To test it, I added water to get the weight to 30 pounds for my first trail evaluation. The temperature was 75° F. with 90% humidity. At one point I got about 5 minutes of very light drizzle.
The pack rode exceptionally well with 30 pounds, way better than my mesh pack would at just 25 pounds. Initially I started the pack strapped evenly to my body. But, after about 1.5 miles I moved the hip belt up a little to where it was just above my hip bone, then loosened up the shoulder straps for better air flow. It was very comfortable when carried that way, and I never changed it after that.
At about 5 miles, I took a quick break for a snack. Normally with a top loader backpack where the food bag is at the bottom, it would present a hassle to get to the snacks; you would either have to dump the entire pack, or think ahead and pack a few snacks in your pocket. But with the Gearskin, I just undid a single buckle and opened my food bag without removing it and grabbed a Snickers. I used that same strap to buckle in my water bottle - VERY convenient. Everything in your pack is just as easy to access - and that is better than any other top, side, or hybrid loading system I've ever used.
40 Pound Test
I loaded it up to 40 pounds by adding a five pound tent, two liters of water, and another pad. I did this to also add bulk and see if a change in the load configuration as well as weight would influence the packing capabilities. The temperature was about 75° F. with 90% humidity and mostly cloudy. The forecast called for thunderstorms but I never got any.
What I found was that it is easy to shift and configure the weight to ride in the best position regardless of what your carrying. Because there isn't specific compartments, and the main "compartment" has a variable size, distributing the load from top to bottom is easy. You don't have to pack stuff in odd places like when you exceed the interior limits of your pack. I also found that the suspension still holds up well to this sort of load. Again, because your load becomes almost a single piece, the entire Gearskin and gear becomes in effect their own stay.
The only downfall (sort of) was at this amount of gear, the Gearskin's bottom buckles become useless. They are so close to the fold at the bottom that they slip off when trying to put on tension, but it isn't a show stopper because there are plenty more of the straps to do the job.
Another thing I found - I hate carrying more weight than I have too, and at 40 pounds - I am doing just that. But this is for science man!☺
50 Pound Test
I loaded it up to 50 pounds. At this point I'm just finding heavy stuff to top off the pack and get some feedback, I doubt a lightweight backpacker could find a reason to pack this heavy unless he were carrying about two weeks food and 2 days worth of water. Honestly, after all these years of going light I found it hard to remember what it was I used to carry when I packed 50 pounds, but I eventually did it. To make it realistic I pulled out an old sleeping bag, huge sleeping pad, tent, stove and HUGE pot, a hammock, extra fuel, lots of water, etc. You get the point, something a newbie to backpacking or an old time hiker still packing a 4 pound sleeping bag and 5 pound tent might find himself carrying.
For this test the temperature was a steamy 81˚ with 92% humidity and some fog. There wasn't any chance of rain, and the fog slowly burned off as I walked.
Amazingly the Gearskin handled 50 pounds very well. I was actually expecting to make it a mile or two then quit because such a load would be too much trouble. But I hiked the entire trail without taking a break. Of course a 50 pound pack slowed me down and made hills a little harder (ok, twice as hard) as when I hike with a 25 pound load. But in the area of comfort and load carrying the Gearskin measures up even to internal frame packs. Something else odd I found was the bottom straps that didn't do much (see 40 pound test) actually were needed with this big bulky load. there seems to be a middle ground between 30 and 50 pound loads that makes some difference. Maybe it was how I packed the 40 pound load, but I can't see how because I always have the same food bag at the bottom.
As I was walking, I pondered on this: Why does a pack without any frame or stays handle loads like it does. Basically this is what I came up with:
1. The U shaped "skin" is like a bridge arch. In a frame or stay system, the load is strapped to the body, and then all the load is strapped to the stay or frame. This means the frame/stay is carrying the load all on a single line along your back, like a slab bridge. But the U shape transfer the weight all across the pack like an arch bridge - evenly distributed top to bottom. I may be way off on this I realize, but it sort of makes sense. Maybe an engineer could tell me I'm full of it, or on the right track.
2. The compression system takes a slack load and makes it into a single unit. Instead of stays or frames, the entire pack becomes it's own rigid suspension system. I think works with the U shape mentioned above.
3. Unlike a lot of ultralight packs, the Gearskin has load lifter straps, these make a difference. In case you don't know what load lifter straps are, they are straps on top of your shoulder pads that pull the load up and make it ride more on top of your shoulders rather than pulling away from your back.
4. The suspension system uses real padding and wide straps, not ultra narrow straps like off a kid's book bag, or straps that use something like socks for padding. Even at low weights the pack feels a lot better than may ultralight packs I've tried (or made).
5. The pack seems to pack best wide and flat to your back, which makes the load feel like a natural part of your body. Even at 50 pounds the pack didn't throw off my center of balance.
I believe I could actually pack an even heavier load than 50 pounds comfortably in the Gearskin, but I'm not going to even try, 50 is way more than I ever plan to carry in it.
Trail Test

To finish off the test, of course requires a trip. To get an idea of how a backpacker would deal with a Gearskin day to day over the course of a hike, I took my children on a four day hike of the Eagle Rock Loop in the Ozark mountains.
Initially I fit the pack with 26.5 pounds, but the second day I took on some extra weight, which bumped my pack up to 27 pounds, but no problems with making room or with carrying the weight. The following day I had to carry some more of another person's gear and my pack weight went over 30 pounds - still no problems at all. The fourth day I had to carry water over mountains (steep like Appalachian Trail steep) because of some dry streams, so I was up to 35 pounds and doing great! Even though I was eating food every day, my pack weight kept going up until the last mile of the last day when I was able to cut back to 23 pounds. One thing I did find was that at lower weights I preferred having a tight waist belt and loose shoulder straps for better ventilation; and at weighs above 30 pounds I preferred to have the shoulder straps tightened as well as the hip belt to help take the load and keep me better balanced.
I found that daily I would totally re-pack my Gearskin from scratch but using a standard load plan. In the evenings I would totally unload my pack and actually roll it up and put it in an empty stuff sack until the morning. I also found that the lighter the load, the looser it was - but that was OK; the heavier the load, the more rigid I could get it which was also a good thing.
After years of trying frame packs, internal frame packs, Army ALICE packs, and rucksacks I've found that I prefer a pack that doesn't carries a lot of weight above your shoulders. The Gearskin definitely does not do that. The pack fits so close to your back and can be packed very flat and wide so that it has very little pull to your back. This made the pack ride so well, there were times the first two days I could barely tell I had a pack on for purposes of keeping balance over rough terrain and water crossings.
During this trip I hiked with three other people carrying about the same or less starting weight, but all using internal frame packs. On the third day I had the opportunity to carry two of their packs for a while (a few miles). By this time all three of their backpacks weighed less than my Gearskin, but I can honestly say that some how the Gearskin carried weigh better than the other two backpacks I tried. These packs were a Peak1 and a Lowe. I'm not sure why it carried weight better. Maybe it is the way the entire pack becomes a unit, maybe it is the versatility in how you load it, maybe it is the low profile or wide body, maybe it is a combination of all the above, or maybe it is something completely different. All I know is after carrying one of the other packs a mile, I yearned for my Gearskin even with it's heavier load.
I mentioned this before, but the pack allows you access to EVERYTHING while your on the trail. Any situation that arose, I was able to reach a piece of gear without digging through everything in the pack. The mesh pocket turned into a convenient pocket, but was totally unnecessary because I ended up putting my water bottle right on the side for easy access, and everything else ended up getting slipped between the "load" and the Gearskin. With the top and sides open, I was constantly worried about letting something slip out, but it never happened even with the pack flip method of donning my backpack. For you that are unfamiliar with the pack flip method:
| | | | |
| --- | --- | --- | --- |
| 1. Stand with your pack in front of you. The pack will be upright and the straps facing away from your legs. | 2. Grasp your pack between the shoulder straps about half way between the hip belt and where they attach to the top of the backpack. | 3. Lift the pack straight up over your head and flip the pack over as it slips down your arms into place. | 4. Now all you have to do is buckle your hip belt. It looks way cooler than the old lift to the knee method everyone uses. |
Something else I should mention that I intended to try was attaching the Gearskin to my Hennessy A-Sym Hammock. I couldn't really find a good way to make this work, and to top it off, I ended up getting the Snake Skins which would have made the two totally incompatible, so having a separate Gearskin ended up being the very best option for me. This way I can use the Gearskin with any shelter I choose for whatever weather and terrain I'm going to.
---
I highly recommend this pack. This design deserves some sort of an award for original thinking, similar to the Hennessy Hammock. For $125 you get a custom made pack for your body made by a real backpacker, and for just 28 ounces (or more likely even less) weight you get a state of the art suspension system while keeping the pack weight itself to a minimum. And most ultralight packs are delicately made with ultralight materials, but you can order a Gearskin as tough as the best Army ALICE pack and still have it weigh less than 2 pounds.
Think about it. The big problems with most ultralight packs are they either have a crappy suspension systems and don't handle heavy loads. Some ultralight packs are just a bag with straps that don't organize well, and if you add features on to make them organize better, the weight goes up. With the Gearskin the organization is limitless. You can sandwich, stuff, strap, and place gear everywhere.
And to top it all off, while most ultralight packs really can't handle loads over 20 pounds, the Gearskin can be your all purpose ultralight pack from a minimal 8 pound pack all the way up to a 50 pound load!
If I had to list my dislikes about the Gearskin, well they would be very few:
First, Moonbowgear is a small company that is overworked. I would love to see them grow and be able to handle bigger volume, but don't let that stop you from ordering, because by doing so you help fix that problem.
Second would be the bottom set of straps, they are so low on the pack that unless you carry a load under about 25 pounds, the serve little purpose. And even at a low pack weight I didn't see them doing much good. I would recommend moving them up just an inch or two, and positioning the rest of the straps up a little higher to keep them evenly spaced. According to Jonathan, my pack must have been made off an older pattern for this part. All new packs have just this change and he offered to fix mine free of charge.
If that is all I have to complain about, that isn't bad.
I plan to pay Moonbow for this excellent pack and keep it for myself. They deserve the money, and I love the pack. And my second idea is to go ahead and get a sil-nylon version without the mesh pocket when I finally get ready to do my thru-hike in 2007. What better endorsement can you give than to say you want to buy two of them yourself?
---
Although I don't normally cover a gear manufacturers in detail, I think Moonbow deserves some special attention.
In my dealings with what I initially thought was your standard gear company, I found Moonbow to be a grass roots hiker oriented/operated business. Instead of a company with a lot of hired workers in a factory somewhere - Moonbow is located right beside the Appalachian Trail in Gorham NH and is run out of the Hikers Welcome hostel by Jonathan McCue who also thru-hiked the AT himself in '94. Jonathan and Rhia do most of the work themselves, and sometimes use contracted workers that are often hikers or climbers as well. Rosaleen actually helped make mine.
Almost everything they sell is custom made to your personal specifications. If you want something special not in the list of their products, just ask. Often all they need is a drawing or idea from you to make your dream gear into reality. I was looking for the perfect tarp/poncho for my Hennessy Ultralight A-Sym Hammock and simply made them a picture which ended up in a final working product at a very reasonable price.
And all it cost me was $100. I could have gotten it cheaper, but I asked for a lot of options and a designe that needed a lot of material - more than a normal poncho would require.
Because they are small, are hikers themselves, are very talented at what they do, and are basically good people, the customer service is excellent.
They prefer you use e-mail to contact them, but if you decide to call - LEAVE A MESSAGE!