Picture from Grand Hammock Bliss catalog.
Weight (tested): 6.36oz (180 grams)
Price: $29.95
Capacity: 1100c.i. (18 Liters)
My size: 5'8" 180 lbs.
E-mail:
URL: www.hammockbliss.com
---
In 2010 I decided to do a "stunt" and try to get my pack weight below 5 pounds, and have that system include a hammock camping system. I started working on creating my own hammock from scratch, because I didn't know of anyone making hammocks light enough for this sort of weight range. I called my stunt the Super UltraLight (SUL) Challenge, which I later renamed Stupid UltraLight Challenge.
As I was looking at different pack solutions, this fell into my lap. The Chief Relaxation Officer of Hammock Bliss wanted to send me a pack and a hammock to test. The hammock was way too much for the challenge, but the pack had potential to be used on this "stunt".
---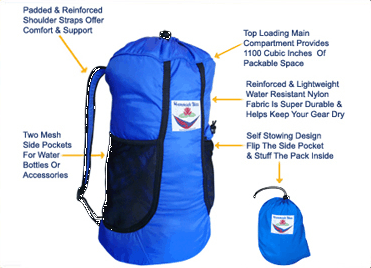 Details of the Hammock Blss Travel Day Pack. From the Hammock Bliss website.
The pack is made from lightweight nylon which is somewhat water resistant. It has two external mesh pockets which aren't very large - about the size of one 24ounce water bottle each. Inside there is a zip close pocket about the right size for a wallet and cell phone. The shoulder straps are minimally padded and incorporate a haul loop into the design. The pack stows inside one of the mesh pockets for easy packing. The main compartment holds 1100c.i. (18 liters)
---
| | | |
| --- | --- | --- |
| | | |
| Left Side | Right Side | Back View |
The Travel Daypack is designed for a light use daypack for shopping or quick hikes, bike rides, or whatever. It's made to pack down small so you can have it on hand. That said, I assumed that meant loads about 10 pounds or less. Knowing that, I didn't jump right into a multi day 15 pound packing list for this pack to haul.

Strap system
Initially I loaded it up with small loads. Since there isn't a back pad to protect your back from harder stuff in the main compartment, I took care to pack the load closest to my body with softer stuff like a fleece top. I imagined that the straps would eventually start cutting into my shoulders when I got the load up past 10 pounds, but remarkably that never happened. The strap design holds the spread of the straps so that they always stayed on the meatiest part of my shoulder muscles and each strap was wide enough that it distributed the load well and not create a 1/2" strip of pain. Though the padding is minimal on these straps, they do their job better than I expected. I also found that the system of connecting them together at the top to form the haul loop seems to also keep those straps about where they should be, so there was never a need for a sternum strap.
Loading the pack is fairly simple - just shove most everything in the main pouch. One minor issue with the pack is the side pockets. When not carrying anything they are still sort of tight to the sides of the pack, so that if you put anything substantial into them, they squeeze in the sides of the main compartment and reduce the effective capacity of the main compartment. One cool thing, I found that the long draw cord on the main compartment made a perfect lanyard for a small LED light, so now there is an LED where ever the pack goes.
---
For day hikes and walking around the mall, the bag was a nice way to go. I really started to like this pack and planned for after the big hike to make it a standard trunk item for my car.
Then I decided to put the Daypack on the rack, to test its upper limits. I loaded it up to 15 pounds with 3.5 days food, .75 liters of water, and a base weight of packing gear at 5 pounds. Wearing it for training and load testing at the house was looking good. The pictures above show how it was riding.

Repaired Strap
Unfortunately the pack only made it about 2.5 miles total on the trail before one of the bottom straps frayed out of the stitching. Everything else held strong. I came home and got my wife to stitch a repair on the pack so I could still use it. I've now tested it back out at 15 pounds and it seems to be holding up well.
---
Please don't get the idea this is a bad pack. I just took it above it's recommended usage. And even then it did a darn good job. Now that this pack is fixed, it is going in my car trunk so I have a light, easy to grab and go pack at all times.
I also came up with another possible good use as I was hiking with this pack: thu-hiker slack pack. When thru-hiking a trail like the AT, often times hikers get the opportunity to slack pack. When this happens, no one wants to bring the big pack to carry some snacks, water, rain gear, and a light. What usually happens is someone borrows a pack from whoever is helping them slack, and often these packs are not the best for the job. But someone planning a thru-hike could throw one of these into their pack and carry it up the trail. When they get to town they could take this pack shopping and leave the big pack at the hotel, hostel, or whatever while they go make their town stops. And if they got the chance to do a slack pack, they would already have a bag their are familiar with handy. A hiker could even use this in their main pack as a food bag as it has a lot of volume and could easily be hung on a bear cable - that way it could serve double duty.
For Hammock Bliss - things I would like to see:
1. Double the stitching at the bottom end of the straps.
2. If you could double the size of the mesh pockets it would be nice. At least big enough to get some larger water bottles in and still have room inside the pack.
What I would like to see
3. Something I have seen on some other lightweight packs is bungee points. This could be done by adding four loops to the pack so that a light bungee could be run through then in a figure 8 pattern. It would be nice for adding some light stuff like a wet poncho or sit pad to the outside of your pack. I have included an edited photo of myself with the pack to show you what I mean. I plan to add one to mine.
---
Hall of Honor recipients for this page
Dov Frazer, Chief Relaxation Officer of Hammock Bliss.