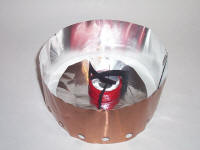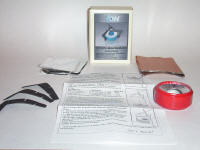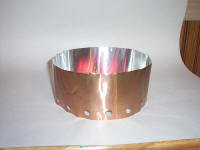 Ion Stove with TiPod stand and Windscreen Kit: The kit includes instructions, a 3"x24" windscreen, aluminum foil heat reflector, Ion Stove, and the TiPod parts. The standard color is Blue, optional colors are Red or unfinished for the true gram weenie that wants to save about .001 grams. The windscreen fits up to 7" diameter pots before trimming. If you have a larger size you would like, please specify in the remarks. There is an extra 50˘ charge for custom windscreens. Price: $19.99
VISUAL STANDARDS DISCLAIMER
The Ion stove and its components are hand made in a garage. They are not produced in mass quantities by a machine, but one at a time. Because of this, there are some slight variations from part to part and stove to stove. The manufacturer feels no obligation to replace or refund the stove or any part of the assembly simply because it does not have a nice appearance. Each stove is tested for performance before leaving the manufacturer to ensure it performs as claimed despite any minor visually variations.
WARRANTY
The Ion stove titanium stand (TiPod) has been tested to safely support a weight up to 5 lbs. (2.3 kg.) without deforming. Weight greater than the recommended amount can result in cracking or breaking of the titanium, especially at or near the slots where the pieces join. The Ion stove is intended for use with a 1 quart (1 liter) pot. It can use larger pots, but generally a solo backpacker doesn't need more than a 2 quart (2 liter) pot. If a full cook pot is placed forcefully or dropped onto the stove, a force many times the weight of the pot is created and this may result in deformity of the stand. The stove (or any of its sub components) may also deform if dropped, stepped on, or stored loosely in a backpack. It is intended that it be stored inside a cook pot or other container. This stove burner is constructed of thin aluminum and it must be handled with care. With proper care this stove will last for many years. This stove was tested at the time of manufacture and was in good working order at the time of shipping. It is warranted to be free from structural defects for as long as the original buyer owns the stove. "Structural defects" refers specifically to voids or breaks in the wall surfaces or a broken or bent stand that rarely develop during normal use. In the rare case of a bona fide structural defect, seller agrees to pay the cost of return shipping charges and provide a new stove at no additional charge. Scratched paint, punctures, dents or other deformities that occur during use do not constitute structural defects. It is not recommended that the stove be operated in other than original condition and therefore seller makes no offer to repair any damages inflicted by buyer. No other warranty either express or implied is offered.
---
Make your own!
---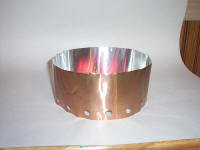 Windscreen Kit: Custom windscreens made using 0.040 aluminum sheet with a copper tone face. Sizes up to 6" thick and up to 36" long. Air holes not included. Price: $5
---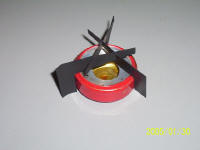 TiPod: The Titanium Tripod without any other part. Price: $12
---
Titanium: a 3"x3" square, big enough to make one TiPod for the do it yourself stove builder. Price: $5.50
---
Shipping: $4.50 on all orders. Shipping is via US Postage Service priority mail.
Payments: I have a PayPal account. Once I confirm your order, I will give you an invoice thru PayPal. If you don't already have a PayPal account, you will be required to do it. But that isn't hard.
Order Here: