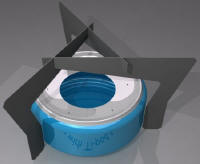 The Ion stove is the culmination of years of testing and design of various ideas that were driven by the desire to produce the lightest, most fuel efficient stove possible while still providing the consistent performance desired by an ultralight backpacker.
This stove is not designed for groups or heavy cooking, its intended use is for a solo ultralight hiker that only needs to boil water and do some simple cooking. Of course the Ion is so light, that a group of hikers could each carry their own stove…
ION Stove – Alcohol fuel stove.
Weight: 0.46 ounces (13 grams)
Height: 1.5" (3.81 cm) tall with stand
Diameter: 2.875" (7.30 cm) with stand
Parts: Burner, three TiPod legs.
Performance: To boil one pint of water @ 212.4° F (100° C) for at least 60 seconds…
| | | |
| --- | --- | --- |
| Air Temperature: | Fuel required: | Time to Boil: |
| 70°F (21°C) or above | 0.3-0.4 fluid ounces (10-12ml) | ~10:30 |
| 35°F to 69°F (2°C to 20°C) | 0.5-06 fluid ounces (15-18ml) | ~12:30 |
| Below 35°F (2°C) | 0.7-0.8 fluid ounces (20-24ml) | ~14:30 |
**Note: these statistics assume you are using a closed lidded pot with the windscreen and reflector**
A windscreen kit is included which weighs 0.53 ounces (15 grams). This windscreen can be trimmed to the necessary height and length. Tested weights have been as low as 0.28 ounces (8 grams).
| | | |
| --- | --- | --- |
| | | |
| Windscreen and pot, nice, tall and tight - only 0.5 ounces | The entire package. | The stove all set up. |
| | | |
| A view from the outside. | Flame pattern | TiPod and Ion Stove |
| | | |
| Ion Stove | | |